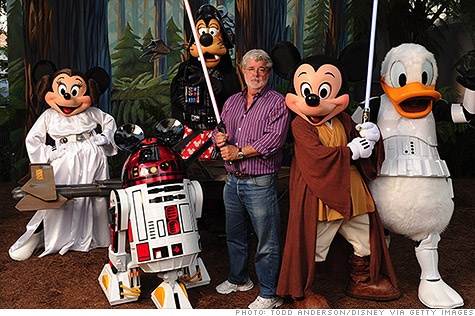 Eight little words set the nerd world on fire yesterday afternoon, buried in the middle of a press release ostensibly touting Disney consolidating yet another section of the entertainment industry under their umbrella, in a quest to become the 21st Century version of Standard Oil: Now With More Entertainment. It began innocuously enough…
Under the terms of the agreement and based on the closing price of Disney stock on October 26, 2012, the transaction value is $4.05 billion, with Disney paying approximately half of the consideration in cash and issuing approximately 40 million shares at closing. The final consideration will be subject to customary post-closing balance sheet adjustments.
But then one got to paragraph six…
Kathleen Kennedy, current Co-Chairman of Lucasfilm, will become President of Lucasfilm, reporting to Walt Disney Studios Chairman Alan Horn. Additionally she will serve as the brand manager for Star Wars, working directly with Disney's global lines of business to build, further integrate, and maximize the value of this global franchise. Ms. Kennedy will serve as executive producer on new Star Wars feature films, with George Lucas serving as creative consultant. Star Wars Episode 7 is targeted for release in 2015, with more feature films expected to continue the Star Wars saga and grow the franchise well into the future.
So, let us run down what properties Disney has recently acquired and spawned hits with:
In this merger they pick up not just ILM and the Star Wars franchise but also Indiana Jones, and such nerd classics from my childhood as Loom (please tell me I am not the only one who remembers Loom and Bobbin Threadbare!) and Monkey Island.
So the real question is how many of these properties will Disney find themselves combining? Will be see Pixar develop a Loom movie in conjunction with LucasFilm Animation? How long until "The Muppets Discover Monkey Island"? (And how much money are we will to wager on The Black Pearl sailing by in an amazingly expensive cameo?) I think we should all start counting down the days until we hear about a Pixar-backed feature length Clone Wars. The real question is does Leia join the pantheon of Disney Princesses as is, or do they do a feature length animated film about her first?
At the end of Muppet Star Wars will Nick Fury make a cameo asking them to join a top secret program known as The Avengers? Who wants to see Miss Piggy vs Black Widow?
Being serious for a moment, does anyone else notice the strategic placement of the next Star Wars movie release in 2015, just after Jackson and WETA complete their The Hobbit Trilogy? Is it just me, or does anyone else wonder how jealous Lucas was to see Jackson swoop in and steal the devotion of nerds everywhere as his prequels tanked one right after the other?
(xposted from IShouldHaveBeenABlogger)